Please Call 9 AM to 9 Pm to place your order by phone
Or email your order and I will send a Pay Pal invoice for the total incl. shipping.
NEWLY LISTED RELICS
---


Veiw All Images
RA1-C.S. & Star Marked Foot Artillery Sword
Here us a very nice "C.S. & Star" marked Foot Artillery sword that would be a standout in any Civil War collection. Only a very, very few of the known Confederate Foot Artillery swords are marked C. S. and I have only seen three examples, this is one of them. The blade on this sword is darkening with age, has a nicely made fuller and gently rounded tip. The crudely made brass handle is high copper content with a C.S. marked guard and a nice, never cleaned rich brown color and overall aged patina. The pommel is marked on each side with a star. The hollow cast brass handles were crudely made and show casting flaws and file marks consistent with Confederate production.
The manufacturer of this Confederate Foot Artillery sword is unknown. However, In his book "Collecting the Confederacy", Shannon Pritchard notes: "The only clue as to its maker is the distinctive scabbard that usually accompanies this style. Usually it is found sheathed in the same style scabbard as the unmarked McElroy foot artillery sword…( a wooden and tin mounted scabbard)…or occasionally a brass mounted and leather scabbard. Although this does not mean that the sword was made by McElroy, it strongly suggests it was made in Macon." There are also reports of partially cast handles being found in the river near the Confederate Selma Arsenal leading to speculation they may have been produced there. It is highly likely they were made by several different manufacturers since this C.S. Marked example is the most commonly found and no known examples are manufacturer marked. This is an excellent example for any collection. $3250.00
SOLD
---


Veiw All Images
RINavaja-1 This is a very nice example of an 1800's Spanish Navaja or fighting knife from an old Mobile weapons collection. It bears bone scales with inlaid brass, brass pins and brass bolsters. The overall length is 19 7/8 inches with a 9 1/8 inch blade. Both sides of the balde are engraved with one side reading "No me sacas sin razon" or "Do not draw me without reason".The blade is locked in place when opened by an extremely strong spring that prevents the blade from closing on the fingers. The word Navaja comes from the Spanish word for razor and these knives were indeed kept razor sharp. The Navaja came into existence in Spain during the 16th century after the carrying of swords was outlawed, prompting some enterprising individual to invent the folding "pocket sword." These are known to have been used in duels and as last ditch back up weapons by soldiers. They were so popular that even a "Navaja Manual" was written describing their best tactical use in a knife fight. In a hostile encounter, a sash or cape was often wrapped on the left arm to parry an opponent's blade preventing injury to the left arm and allowing a thrust by the right hand. A very nice weapon to add to any knife collection. Price $595.00
SOLD
---


Veiw All Images
RIDK-2 Another WWI era diver's knife with a heavy brass scabbard fro an [old Mobile collection. The knife is double edged, with a turned wooden handle like many of these diver's knives of the period and has a name on it. The last name is Gorman but I cannot make out the first name. Perhaps the owner or the manufacturer? $425.00
---


Veiw All Images
RJI-Cannon - A beautifully handcrafted bronze Lantaka cannon. This was a portable cannon or swivel gun that was mounted on merchant vessels and warships in Maritime Southeast Asia. Lantaka cannons were used by Moro soldiers in the Moro Rebellion against U.S. Soldiers in the Philippines. They were also used by the Filipinos during the Philippine Revolution. They were copied from European mode;s and cast from church bells. At sea the cannons were mounted in sockets on the ship's rail, on land they were mounted on wooden bases and carried from position to position much like a modern day mortar. The bore on this cannon is 1.36 inches. A beautiful piece to be displayed with a gun collection or mounted as a centerpiece in as garden. $2100.00
SOLD
---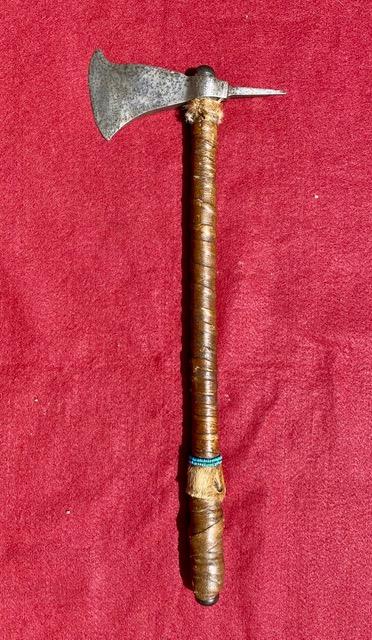 Veiw All Images
RJI-Tomahawk - From an old Mobile collection, this is a very fine Native American tomahawk from the 1800's. It is decorated with deer fur and a string of blue beads and the handle is wrapped with rawhide. This would have been a vicious weapon in hand to hand combat with a cutting blade and a spike to pierce the skull. A fine addition to any Native American collection. $3,000.00
SOLD
---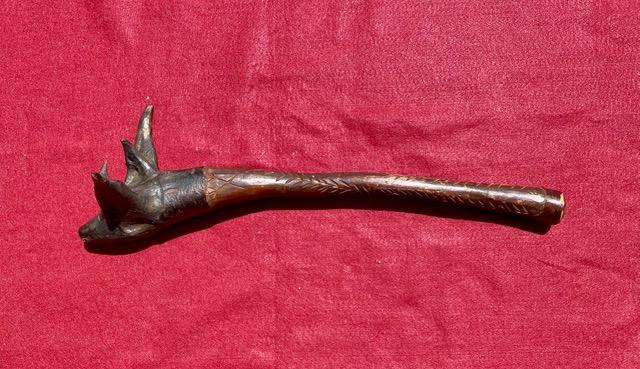 Veiw All Images
RJI-RootClub - From an Old Mobile collection, this is a very unusual Native American Root Club. It resembles a horned boar or pig, with rudimentary carved eyes and mouth. The shaft has a carved leaf design. In my opinion this would have belonged to a tribal Shaman to use in rituals. A very fine Native American Piece to display with any collection of Indian Artifacts. $2,000.00
SOLD
---


Veiw All Images
RITS-12 Two unique relics from an old Mobile collection. These are two toy swords made during the Civil War. As you can see one concerned parent apparently blunted the end of one. These are very nicely made pieces. The replica of an Officer's Model 1860 Cavalry saber still has the leather covering on the wooden grip. Both handguards were heavily gilded at one time and still retain a large amount of gilt. The sword with the blunted end is 22' from pommel to tip and the other is 18 1/2" from pommel to tip. Priced as a pair: $250.00
SOLD

---

Veiw All Images
RIMISC-13 A beautifully crafted Lady's Victorian Riding Crop. The fittings are gold plated and the handle appears to be Ivory. The wooden shaft is carved in a manner to imitate bamboo.The owner's name, "Lily Parkin" is engraved on the ferrule below the handle. From an old Mobile collection. Price $250.00 SOLD
---


Veiw All Images
MR-14b A world War 1 British Officer's Swagger stick from The Royal Berkshire Regiment. 25 1/2 inches long and a very nice piece in excellent condition. Price $150.00
---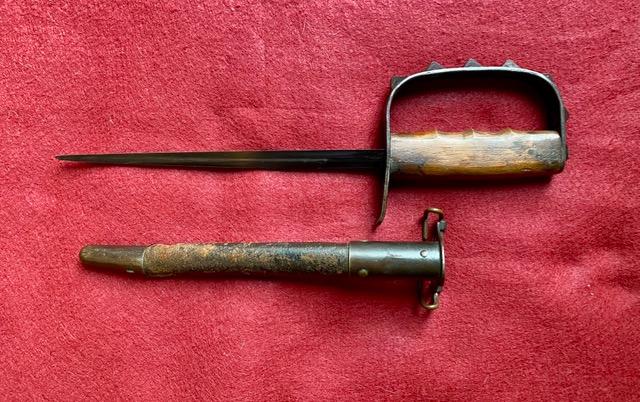 Veiw All Images
RIK-16 From WWI a Model 1917 Landers, Frary & Clark Trench Knife with its original leather and metal scabbard. This is a vicious weapon. The triangular blade was designed to be able to punch through the heavy felt trench coats worn by the enemy and the pyramidal knobs on the hand guard served as a brutal "knuckle duster". The walnut handle with finger grips is in excellent condition, the blade is perfect. markings "U.S. L.F. & C. 1917" are crisp and scabbard is in very good condition. SOLD
---


Veiw All Images
RIF-8 A high quality example of a Model 1841 U.S. Percussion Rifle dated 1849, also known as the "Mississippi Rifle" . It is regarded by many collectors as one of the most handsome of all U.S. Military longarms. This is a Robbins and Lawrence contract model made in Windsor, Vermont as indicated by the very strong markings on the lockplate. The rifle was produced by Robbins and Lawrence from 1848 to 1853 with a total production of 15,000. It is .54 caliber, has an excellent bore, perfect mechanics, both sling swivels present and original Ramrod. There is slight peppering on the breech indicating use, the metal is a nice plum tone with traces of bluing towards the bore. The rifle got it's "Mississippi" name during the Mexican War when a regiment under the command of Jefferson Davis of Mississippi used them with precision against the Mexican Army. These rifles stand out due to their brass furniture including a brass trigger guard, barrel bands, lock bolster, buttplate and patchbox. Note the inside lid of the patchbox contains the initials M.L.P. punched into the brass. All of the brass on this piece have mellowed to a nice mustard tone.The walnut stock is in excellent condition and the two inspector cartouches opposite the lock are very strong. These indicate the rifle was approved for military use. This is an excellent example of a Mississippi that would be very tough to upgrade. $3,900.00
SOLD
---


Veiw All Images
RIF-9 Model 1884 U.S. Springfield Trap Door Rifle with Buffington rear sight, .45-70. Has the standard two piece trigger guard and grooved trigger associated with this rifle. Both sling swivels present and stacking swivel. Correct ramrod. Sight in excellent condition, rifle nicely marked and dated. The wood is in very nice condition as is the metal. Strong markings on lock, Trapdoor, buttplate and serial number present just above the tang. The Model 1884 was used in the Indian Wars, Spanish-American War, Phillipine-American War. A very fine addition to any U.S. Springfield or U.S. Military rifle collection. $1,500.00 SOLD
---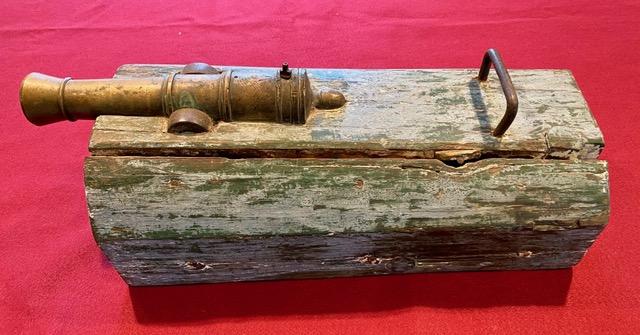 Veiw All Images
RIF-5 The Consignor has had this very interesting piece in his Civil War C.S. collection for many years. It was originally a British Rail Gun used on English War Ships as a signal cannon. It is a .91 caliber cannon, 12 1/4 inches long and measures 3 3/4 wide at the trunnions. The gun is crudely embedded and bolted into a wooden log with an iron handle at the rear for carrying it while grasping the muzzle. The log is painted a blue/gray color with traces of white and green paint showing through in places. It is clearly a very old piece. Very interestingly, the fuse hole has had a percussion nipple affixed that would allow for the use of percussion caps to fire the gun. Upon purchase, the consignor will provide a detailed signed letter with the piece which states in part, "…..the Confederate Army purchased surplus English Weapons such as this during the early parts of the Civil War, before most ports of entry were closed. This cannon would have been the type of weapon the Confederates purchased. As they required weapons for land warfare, the intricate embedding of this cannon into the hand hewn log would have been a Confederate creation in order to convert the former English Maritime signal cannon into an anti-personnel land weapon. This weapon would then have been used by Confederate soldiers on breastworks for defensive purposes to expose the enemy to well aimed shot or single round balls at close range." It may not has been effective as a two man Coehorn mortar but I bet it could have done a bit of damage and was much easier to to tote around! This is certainly and old an unique piece and is priced at $9,000.00
SOLD
---


Veiw All Images
RIF-6 Model 1867 New Model .50 Caliber Spencer rifle with the N.M. (New Model) designation at the breech. Both sling swivels are in place and there is a lug under the front of the barrel for a saber bayonet. The action operates smoothly, the bore is excellent with six groove rifling, sight if fully functional and the magazine is in perfect condition. This rifle is from an old Mobile Collection and is museum quality. $4,500.00 SOLD
---


Veiw All Images
RIF-7 .50-70 Metallic cartridge conversion of a Model 1863 Sharps Saddle Ring Percussion Carbine. Very good condition with crisp marking of lock plate and sight. Rear sight is fully functional and front blade is perfect. The action is very smooth and the lever lock functions flawlessly. Saddle ring and bar present. Bore is very good with mirror like finish. Walnut stock and forearm in very good condition. A great Indian Wars piece! $3700.00 SOLD
---