Please Call 9 AM to 9 Pm to place your order by phone
Or email your order and I will send a Pay Pal invoice for the total incl. shipping.
NEWLY LISTED RELICS
---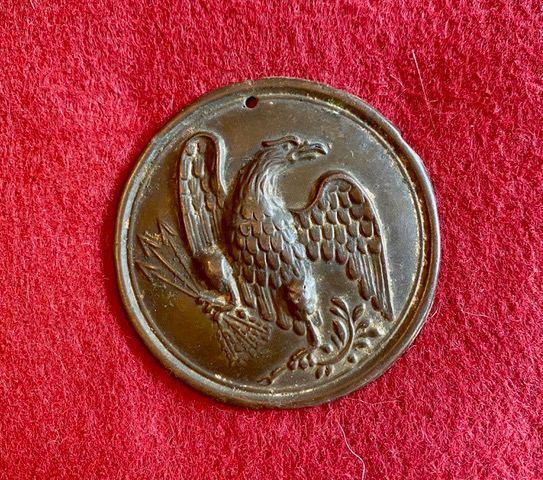 View All Images
EBP-1 A very nice Eagle Breast Plate with nice chocolate patina. It was displayed on an old relic board years ago. $135.00
---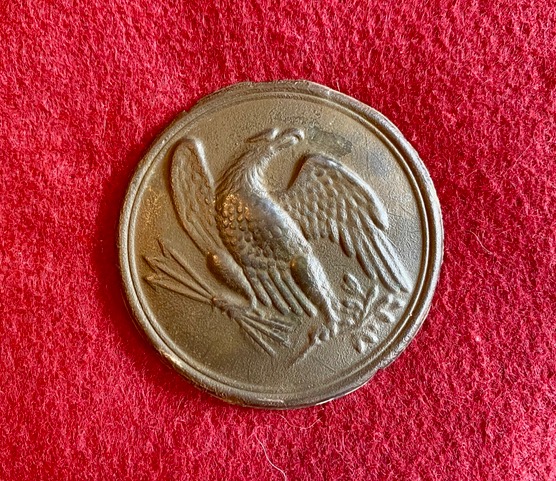 View All Images
EBP-2. Very nice Eagle Breast plate with nice chocolate patina and portions of iron hooks remaining on back of plate. $145.00
---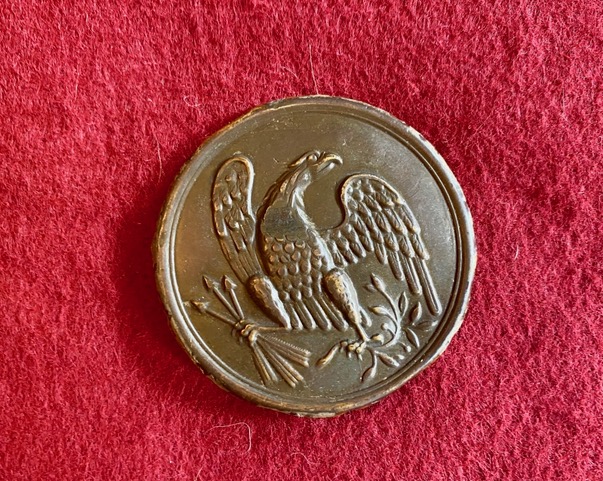 View All Images
EBP-3 Beautiful Eagle Breast Plate dug at Petersburg, Virginia many years ago. Has on iron loop remaining and traces of the other one. $155.00
---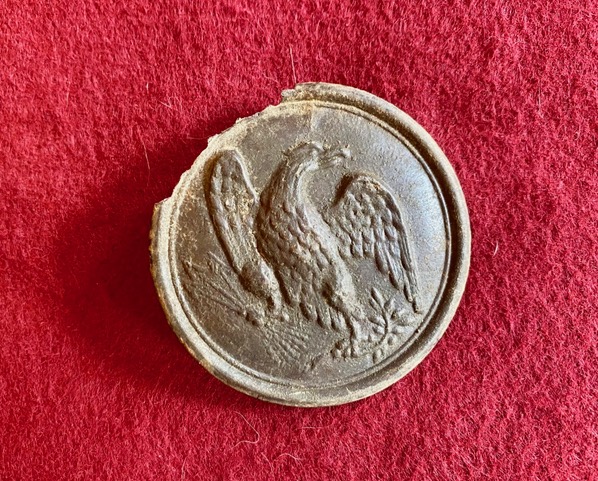 View All Images
EBP-4 Here is a good looking Eagle Breast Plate with both iron loops remaining but missing a small portion of the rim from the 9 to 11 O'clock position. Great addition to any Civil War Collection. $140.00
---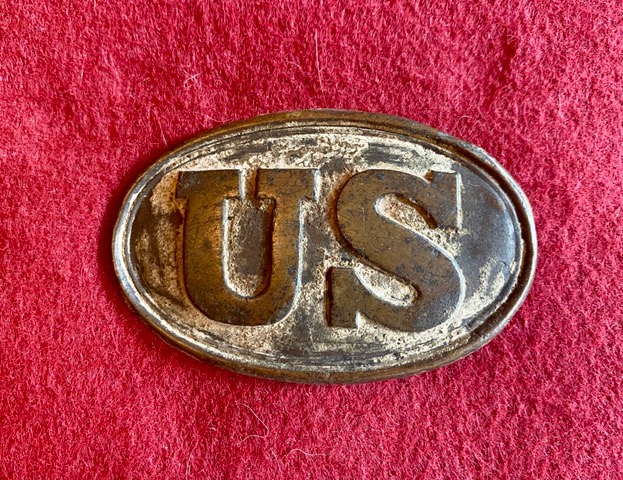 View All Images
BP-5. A very desirable early war "Puppy Paw" plate with the iron stud belt connectors. Excellent face with a nice patina. The tongue connector on the back is MIA which is probably why it was discarded. Nicely priced at $225.00
---


Veiw All Images
RA1-C.S. & Star Marked Foot Artillery Sword
Here us a very nice "C.S. & Star" marked Foot Artillery sword that would be a standout in any Civil War collection. Only a very, very few of the known Confederate Foot Artillery swords are marked C. S. and I have only seen three examples, this is one of them. The blade on this sword is darkening with age, has a nicely made fuller and gently rounded tip. The crudely made brass handle is high copper content with a C.S. marked guard and a nice, never cleaned rich brown color and overall aged patina. The pommel is marked on each side with a star. The hollow cast brass handles were crudely made and show casting flaws and file marks consistent with Confederate production.
The manufacturer of this Confederate Foot Artillery sword is unknown. However, In his book "Collecting the Confederacy", Shannon Pritchard notes: "The only clue as to its maker is the distinctive scabbard that usually accompanies this style. Usually it is found sheathed in the same style scabbard as the unmarked McElroy foot artillery sword…( a wooden and tin mounted scabbard)…or occasionally a brass mounted and leather scabbard. Although this does not mean that the sword was made by McElroy, it strongly suggests it was made in Macon." There are also reports of partially cast handles being found in the river near the Confederate Selma Arsenal leading to speculation they may have been produced there. It is highly likely they were made by several different manufacturers since this C.S. Marked example is the most commonly found and no known examples are manufacturer marked. This is an excellent example for any collection. $3250.00
SOLD
---


Veiw All Images
RINavaja-1 This is a very nice example of an 1800's Spanish Navaja or fighting knife from an old Mobile weapons collection. It bears bone scales with inlaid brass, brass pins and brass bolsters. The overall length is 19 7/8 inches with a 9 1/8 inch blade. Both sides of the balde are engraved with one side reading "No me sacas sin razon" or "Do not draw me without reason".The blade is locked in place when opened by an extremely strong spring that prevents the blade from closing on the fingers. The word Navaja comes from the Spanish word for razor and these knives were indeed kept razor sharp. The Navaja came into existence in Spain during the 16th century after the carrying of swords was outlawed, prompting some enterprising individual to invent the folding "pocket sword." These are known to have been used in duels and as last ditch back up weapons by soldiers. They were so popular that even a "Navaja Manual" was written describing their best tactical use in a knife fight. In a hostile encounter, a sash or cape was often wrapped on the left arm to parry an opponent's blade preventing injury to the left arm and allowing a thrust by the right hand. A very nice weapon to add to any knife collection. Price $595.00
SOLD
---


Veiw All Images
RIDK-2 Another WWI era diver's knife with a heavy brass scabbard fro an [old Mobile collection. The knife is double edged, with a turned wooden handle like many of these diver's knives of the period and has a name on it. The last name is Gorman but I cannot make out the first name. Perhaps the owner or the manufacturer? $425.00 SOLD
---


Veiw All Images
RJI-Cannon - A beautifully handcrafted bronze Lantaka cannon. This was a portable cannon or swivel gun that was mounted on merchant vessels and warships in Maritime Southeast Asia. Lantaka cannons were used by Moro soldiers in the Moro Rebellion against U.S. Soldiers in the Philippines. They were also used by the Filipinos during the Philippine Revolution. They were copied from European mode;s and cast from church bells. At sea the cannons were mounted in sockets on the ship's rail, on land they were mounted on wooden bases and carried from position to position much like a modern day mortar. The bore on this cannon is 1.36 inches. A beautiful piece to be displayed with a gun collection or mounted as a centerpiece in as garden. $2100.00
SOLD
---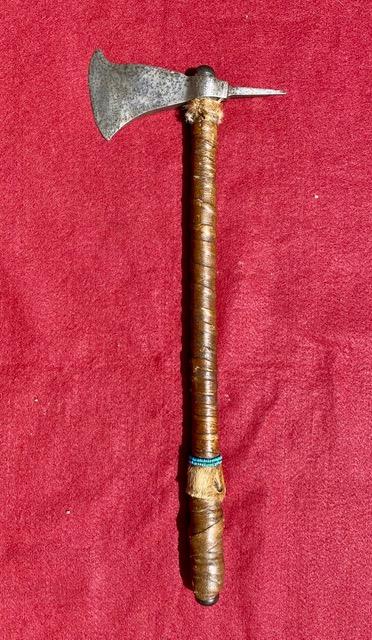 Veiw All Images
RJI-Tomahawk - From an old Mobile collection, this is a very fine Native American tomahawk from the 1800's. It is decorated with deer fur and a string of blue beads and the handle is wrapped with rawhide. This would have been a vicious weapon in hand to hand combat with a cutting blade and a spike to pierce the skull. A fine addition to any Native American collection. $3,000.00
SOLD
---