Cayenne Metal Detectors Home
Civil War Relics For Sale
Rolland Golden Civil War Ltd. Edition Lithographs
Quality Used Detectors
XP Deus Detectors & Access
XP ORX Coin & Relic Det
XP ORX Gold Det. & Access
Nokta Detectors
Diggers & Probes
Headphones
My Finds
Customer Finds
Search & Find Services
Success Stories
Links
Notice: On Multiple Items you will only be charged actual shipping.
Shopping cart adds shipping for each item ordered and cannot
adapt for items packed and shipped together. You will be refiunded any
additional shipping charges paid.
22 Whites Detector Models Now Available Online Here
---
XP DEUS ACCESSORIES
Wireless Headphones, Water Kit, Search Coils, Wireless Pinpointer, Wireless Remote Wrist Band and More!!!
MANUAL
XP DEUS V4
USER MANUAL
FIELD TESTS
XP DEUS DOWNLOADS & FIELD TESTS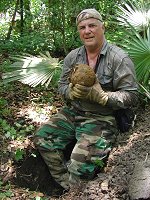 My name is Richard Angelico... welcome to Cayenne Metal Detectors - Purveyor of XP Deus wireless detector. The finest metal detectors & accessories available for Relic Hunting, Coin Shooting, Treasure Hunting or Gold Prospecting. Personalized service and support from a successful, experienced detectorist. Where Quality & Performance is Paramount!
Ph: 504-453-3359 richard.angelico@gmail.com
Visitors Welcome by Appointment

SEE ALSO
XP DEUS II FAST MULTI-FREQUENCY WIRELESS METAL DETECTOR
All Terrain, Land & Sea, Waterproof to 20 Meters
THE ORIGINAL XP DEUS WIRELESS METAL DETECTOR

OR XP ORX COIN & RELIC WIRELESS METAL DETECTOR
35 Frequencies - For use in all terrains.
---
XP ORX GOLD PROSPECTING WIRELESS METAL DETECTOR
Scroll Down For Deus Specification, Details & Ordering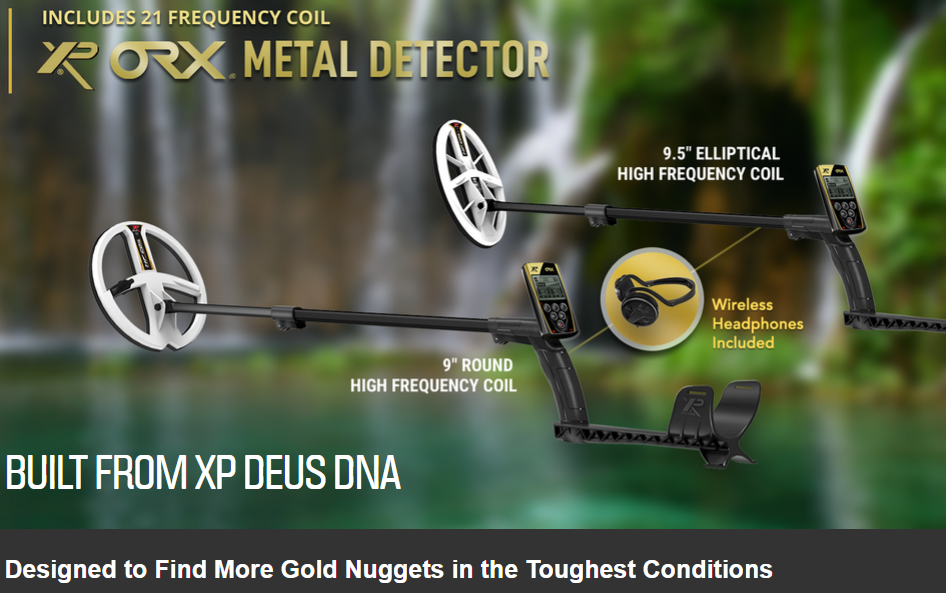 XP ORX GOLD METAL ALL WIRELESS DETECTOR
Are you ready for some High-performance Gold prospecting?
21 Frequencies (13 kHz - 81 kHz)

Choose from two High Frequency coil options. A 9" Round DD coil operating at 13 to 59kHz or a 9.5" Elliptical DD coil operating at 13 to 81kHz. For use in all terrains. Select your program and start prospecting for gold!

Lightest Weight + Rugged

Weighing in at just 1 Pound 14 Ounces (870 grams) the ORX includes the patented XP LITE stem which has the combined advantages of an S-shaped stem and a straight telescopic stem. It enables you to deploy or fold away the device for transport in just a few seconds and to change the coil in an instant.

ORX Includes the Best Loved Features of the Popular XP DEUS

Choose from 2 Gold Program, 2 Coin Programs and 2 User Customizable Programs. Whether you are an experienced metal detector user or a beginner, the ORX is easy to use. Powerful pre-configured factory programs enable all users to get started immediately! Expert detectorists can customize the settings and select advanced options.

GO TERRAIN Smart Phone Application

This application for Apple IOS or Android smartphones is designed to optimize your ORX experience. Key features are: Geo-locate, a real time map and the ability to make an inventory of your finds. (Coming Soon)

ORX Metal Detector Key Features:

Elliptical 9.5" HF Coil (13kHz to 81kHz) or Round 9" HF Coil (13kHz to 59kHz)
Extreme sensitivity to small targets with high frequency 50kHz and 81 kHz
4 Factory Programs: 2 for Coins Relics and Jewelry + 2 for Gold Prospecting
2 User Defined Custom Programs
Trusted XP fast wireless technology: Coil – Remote – Headphones – MI-6 Pinpointer (optional)
WS Audio® compact wireless headphone receiver
Re-designed ultra-light Telescopic "S" stem
Easy to operate with a user-friendly interface
Wireless connectivity to the MI-6 pinpointer + advanced remote settings
Easy to charge with any certified USB charger or via computer (XP USB charger optional only)
Compatible with the X35 search coil range 9" round (22cm), 11" round (28cm), 13" x 11" (34/28cm)
Software Update (remote control via USB cable)
Go terrain mobile app compatible (Coming Soon)
World's lightest weight detector: 1 Pound 14 Ounces (870 grams)
Lithium Battery: Up to 20 Hour Battery Life
5-year warranty - Made in France - USA Service Center

Fast Target Response Speed

The ORX is a fast and selective detector. Easily locate good targets in close proximity to junk that other detectors miss.

Patented Radio Frequency Wireless

The ORX is innovative in terms of metal detector design as it offers an unique system based on different wireless elements communicating via a digital radio link. All components - Coil, LCD Remote Display, Headphones and the optional MI-6 Pinpointer communicate wirelessly! No more cables to get tangled in or break.

XP MI-6 Waterproof Wireless Pinpointer Compatible

Wirelessly connect the popular MI-6 Waterproof Pinpointer to your ORX to unlock the following features on the MI-6 Pinpointer: Audio output to the ORX headset, Advanced Settings (5), Adjustable audio tone, Anti-interference system, Recover lost MI-6 pinpointer mode, Target zoom screen, 50 levels of sensitivity and extended pinpointer battery life up to 90 hours. The MI-6 is waterproof to 6 meters, 19.7 feet and includes a rechargeable battery.

ORX Metal Detector Operating Modes:

Gold: For low to average mineralization, good sensitivity to medium and large sized Gold
Fine Gold: For heavy mineralization with good sensitivity to small and medium sized Gold
Coin Fast: For coins jewelry and all types of targets good performance on mineralized or contaminated ground.
Coin Deep: For coins and all types of targets good performance on low mineralized, uncontaminated ground.
2 User Defined Programs: Customizable programs.

XP ORX Metal Detector Settings:

99 levels of sensitivity
21 frequencies
99 levels of discrimination
5 levels of IAR (Iron Amplitude Rejection) Discrimination in Gold programs
20 levels of Threshold
4 levels of Reactivity
Iron Tone with Pitch audio (ON/OFF)
Ground balance: manual adjustment from 60 to 90 or automatic (fast grab)
Salt mode ground rejection: 00-25
4 factory + 2 user programs
Target Identification with Iron probability
Pinpoint function with target zoom
Go-Terrain compatible (Coming Soon)