Cayenne Metal Detectors Home
Civil War Relics For Sale
Rolland Golden Civil War Ltd. Edition Lithographs
Quality Used Detectors
Garrett Detectors & Access
Whites Detectors & Access
XP Deus Detectors & Access
XP ORX Coin & Relic Det
XP ORX Gold Det. & Access
Diggers & Probes
Headphones
My Finds
Customer Finds
Search & Find Services
Success Stories
Links
Notice: On Multiple Items you will only be charged actual shipping.
Shopping cart adds shipping for each item ordered and cannot
adapt for items packed and shipped together. You will be refiunded any
additional shipping charges paid.
22 Whites Detector Models Now Available Online Here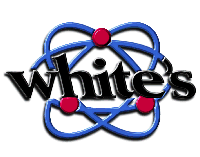 Whites Metal Detectors
Authorized Dealer


Killer B Headphones,
CTX, Deus & More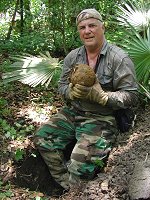 My name is Richard Angelico... welcome to Cayenne Metal Detectors - Purveyor of XP Deus wireless detector, Garrett & Whites detectors. The finest metal detectors & accessories available for Relic Hunting, Coin Shooting, Treasure Hunting or Gold Prospecting. Personalized service and support from a successful, experienced detectorist. Where Quality & Performance is Paramount!
Ph: 504-453-3359 richard.angelico@gmail.com
Visitors Welcome by Appointment
---
The new MI-6 Pinpointer has a wide range of innovative features compared to other products on today's market:

(SKU: PPOINTER,
Retail $219.00 Our Price $199.00
NOW ONLY $159.00
Plus $8.75 Shipping

• Audio signal is transmitted directly to the DEUS
• Interference suppression system between MI-6 / DEUS.
• Lithium rechargeable battery with long battery life.
• Waterproof: 6 m / 20 ft.
• Advanced levels of adjustments via the DEUS

50 levels of sensitivity
• Adjustable tones
• 2 audio modes
• Battery level indicator
• 4 programs
• MI-6 recovery mode - find a lost MI-6 even if it
has been switched off for several weeks.
• Fast one touch pairing between the MI-6 / Deus. See Full Brochure Here

Rechargeable lithium battery
Waterproof up 6 meters
2 audio modes (Pitch and Pulse)
6 programs
3 levels of sensitivity
LED, vibration, Loudspeaker ON/OFF
Rotating holster
Ergonomic rubber hand grip
2 year-warranty
Made in France

XP MI-4 Waterproof Pinpointer Metal Detector

The MI-4 is waterproof to 6 meters for use on land and in both fresh and salt water environments. Includes a built in Rechargeable Battery System, Lanyard and Holster. RETAIL $150 OUR PRICE $127.50 Plus $8.75 Shipping

XP Metal Detectors is pleased to introduce another new product, the XP MI-4 Waterproof Pinpointer Metal Detector. This model is designed to be used by all detectorists and is offered at an attractive price. The MI-4 is equipped with the same features as the MI-6, but without the wireless radio link connection to the DEUS detector.

The XP MI-4 Pinpointer is for everyone! Use alongside any metal detector. The MI-4 is waterproof to 6 meters for use on land and in both fresh and salt water environments. Includes a built in Rechargeable Battery System, Lanyard and Holster. Premium quality, backed by a full 2 year warranty.

The MI-4 is offered at a competitive price and packed with features compared to other pin point probes in this price range:
Pro-Pointer® AT Pinpointing Metal Detector
List $149.95 Our Price $127.45
Plus $8.75 Shipping

The Pro-Pointer AT provides all terrain versatility for locating and pinpointing metallic targets. It is environmentally protected from the elements and is fully submersible to a maximum depth of 10 feet or 3 meters.

Pro-Pointer AT Unique Features:
Fully waterproof to 10 feet with orange color for added visibility underwater.
Maximum Sensitivity for improved detection of nuggets and other small targets. Choose from three Sensitivity levels.
Fast Retune: Quick button press instantly tunes out environment or narrows detection field for precise pinpointing of larger targets.

Retuning allows user to quickly:
Shrink detection field to precisely pinpoint large targets
Tune out mineralized ground, wet beach sand, etc.
Help gauge target size/distance
Help identify edges of large target
Pinpoint multiple targets versus one large target signal

Lost Pro-Pointer Alarm: After 5 minutes with no button presses, the pinpointer emits periodic warning chirps.
Automatic power off after 5 minutes of warning chirps; saves batteries.
Simple, single-button operation for Power, Retune, Sensitivity adjustment, and Stealth Mode.
Ruler in Inches and Centimeters molded into side of pinpointer to judge target depth.
Lanyard Attachment Loop molded into side of pinpointer.
New power button is easy to operate even with gloves.

Other Pro-Pointer AT Features:
Patented Proportional Audio/Vibration
Patented scraping blade for searching soil
Twice the battery life of other pinpointers with LED lights.
Pinpointing tip and 360° detection area
LED Flashlight for low light uses.
Includes woven belt holster and 9-volt battery.
Large power button

---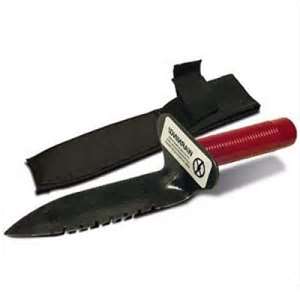 The Lesche Digger is a premium quality tool designed to easily cut through roots and tough ground conditions. Safely and easily recover valuable targets with ease. Includes cordura sheath.
COMES WITH LEFT OR RIGHT SERRATED BLADE.
LESCHE DIGGING TOOL LEFT SERRATED BLADE FOR RIGHT HANDED USE
Our Price $49.99 Plus $8.75 Shipping
LESCHE DIGGING TOOL RIGHT SERRATED BLADE FOR LEFT HANDED USE
Our Price $49.99 Plus $8.75 Shipping
---
GARRETT PRO POINTER - Read Garrett Pro Pointer Saves the Day!

PROFESSIONAL PINPOINTER
LOADED WITH FEATURES ONLY GARRETT CAN OFFER !
WATER RESISTANT...LED LIGHT...AUTOMATIC TUNING
PINPOINTING TIP AND SIDE SCAN...AUDIBLE AND VIBRATING ALARMS
SIFTING BLADE FOR SCRAPINGTHE SOIL...
9 VOLT BATTERY INCLUDED..
MICROPROCESSOR CIRCUITRY...
ALARMS INCREASE WITH INTENSITY AS YOU GET CLOSER TO YOUR TARGET
ACCURATE RECOVERY, EVEN IN MINERALIZED SOIL AND SALT WATER SATURATED SAND !
OUTPERFORMS THE REST !
NEARLY TWICE THE DEPTH AS THE COMPETITON'S PINPOINTER !
FORGET THOSE CHEAP PINPOINTERS THAT YOU HAVE SEEN IN THE PAST !
MADE IN AMERICA
GARRETT PRO POINTER
Our Price $127.45 Plus $8.75 Shipping