Cayenne Metal Detectors Home
Civil War Relics For Sale
Rolland Golden Civil War Ltd. Edition Lithographs
Quality Used Detectors
XP Deus Detectors & Access
XP ORX Coin & Relic Det
XP ORX Gold Det. & Access
Nokta Detectors
Diggers & Probes
Headphones
My Finds
Customer Finds
Search & Find Services
Success Stories
Links
Notice: On Multiple Items you will only be charged actual shipping.
Shopping cart adds shipping for each item ordered and cannot
adapt for items packed and shipped together. You will be refiunded any
additional shipping charges paid.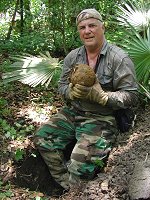 My name is Richard Angelico... welcome to Cayenne Metal Detectors - Purveyor of XP Deus wireless detector. The finest metal detectors & accessories available for Relic Hunting, Coin Shooting, Treasure Hunting or Gold Prospecting. Personalized service and support from a successful, experienced detectorist. Where Quality & Performance is Paramount!
Ph: 504-453-3359 richard.angelico@gmail.com
Visitors Welcome by Appointment

---
FAVORITE LINKS
Louisiana & New Orleans Historical Links
The Historic New Orleans Collection