Cayenne Metal Detectors Home
Civil War Relics For Sale
Rolland Golden Civil War Ltd. Edition Lithographs
Quality Used Detectors
XP Deus Detectors & Access
XP ORX Coin & Relic Det
XP ORX Gold Det. & Access
Nokta Detectors
Diggers & Probes
Headphones
My Finds
Customer Finds
Search & Find Services
Success Stories
Links
Notice: On Multiple Items you will only be charged actual shipping.
Shopping cart adds shipping for each item ordered and cannot
adapt for items packed and shipped together. You will be refiunded any
additional shipping charges paid.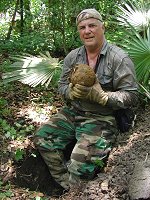 My name is Richard Angelico... welcome to Cayenne Metal Detectors - Purveyor of XP Deus wireless detector. The finest metal detectors & accessories available for Relic Hunting, Coin Shooting, Treasure Hunting or Gold Prospecting. Personalized service and support from a successful, experienced detectorist. Where Quality & Performance is Paramount!
Ph: 504-453-3359 richard.angelico@gmail.com
Visitors Welcome by Appointment

---
SOME OF MY FINDS
Cli on the Image to View Full Size
I had a great week with the XP Deus in the canefields! An 1820's Army General Service button, an 1875 Seated Liberty dime, an early 1800's spring loaded Fleam or "blood letter", a super nice heel plate and a load of buttons, issue lead, buckles and an 1853 half dime. My new Relic Program is really sniffing out the small buttons and the deep relics. The large heel plate was over a foot deep and rang out big time!
---
Beautiful 1789 - 8 Reale nailed by the XP Deus. Pix show it right after being dug and after being cleaned
---
2012 FINDS
This is my first really deep minie with the Blisstool. I thought the target was about two or three inches deep since it range out so loud. As it turns out, it was about 14 inches down. My shovel blade is 11 inches and the top of the hole is about 3 inches above the top of my shovel blade. This machine really goes deep!!
So how many dials and switches can one detector have? " That was my first thought when unpacking my new Blisstool. My second was, " How am I ever going to understand this? " As it turns out, it was a snap! Like most advanced detectors, you don't use all the dials, switches or programs at one time. They are there for special adjustments needed to overcome a particular ground condition. My first relic hunt was in non-mineralized soil and I tried out the Manual GB and then the Auto GB and found the Auto best for that situation and I was off to the races. My first target was a nice heel plate about 5 inches deep that rang out like Big Ben! My second was a nice Treble Gilt marked button at 10 inches and it sounded just like the heel plate.
Also a shield nickel and a rifle and pistol ball. The Blisstool does not have virtual depth discrimination so deep targets sound just like shallow targets and good targets give a nice round, solid beep when you check them from two different directions. I searched at a moderate sweep speed and when I got a "beep" I sped up my sweep speed to check it and if the target spit, crackled, snapped or popped that was the Blisstool telling me it was iron. ( I dug a few targets to be sure and it was on the money for rejecting iron ) If the signal held, it was brass, lead, coins, etc. All in all I am impressed with the machine and can't wait to get back to some of my old sites and see what relics it pulls from the depths.
"This is an extremely rare Charles Bellenot Pelican Button made in New Orleans. Bellenot was a die maker with a shop on Exchange Place at Bienville in the French Quarter and made Pelican buttons, Pelican hat pins and other Louisiana Militia accoutrements until 1862. The backmark is C. Bellenot with two stars on either side and the the initials N.O. on the bottom."
This is a "sawed off" percussion shotgun found in a C.S. Cavalry camp at a local plantation. C.S. Cavalry used these but hard to say if this was one of them or not. It could just as easily be just a sawed off shotgun someone lost.
1797 New Orleans Reale
More stuff: 1851 New Orleans mint half dime, 3rd pix buckles, suspender clip, sterling comb top, pocket watch cover, mane and tail combs, scabbard tip, 4th pix Early plain militia plate, heel plates, musket balls, bleeder ( Fleam ) , harmonica parts, part of a spur, canteen spout. All from a local plantation.
---
OLDER FINDS
Row 1 - Here are some treasure hunting finds made with the X-5 and the X-2 metal detectors. The first three pictures show a Union Naval Watercap fuse dug at Port Hudson, La.. This was the first time I tried out the 7 inch coil. The fuse was at 19 inches! Also in the hole a carved lead pencil used by a Civil War soldier.The piece of coarse gray fabric on the coil was imbedded in the threads of the fuse.The next grouping of relics were found using the 5 inch coil. In the group are flat butons, a brass spoon handle, a War of 1812 Regiment of Artillerists button and a nice thimble. The War of 1812 Standard Enlisted Man's Shoulder Belt Plate was found with the X-2 at a site used by Andrew Jackson's troops during the defense of New Orleans.The Reale and the half dime were found using the 9 inch coil on the X-5.

Row 2 - This is a closer shot of the fuse in the first row. I found the 1906 United Confederate Veterans badge in a fruit orchard right across the street from my house on Bayou St. John. The 8 inch fused Naval Ball was my first Artillery shell.I found it using the X-2 and the 9 inch coil. The colonial button was found at a local plantation. The belt plate with a .69 ball placed in the center is an interesting piece. I found it at the same site as the 1812 plate. It is a British Waist Belt Plate circa 1768 to 1777. It was in three pieces and folded in half. Since no British troops were at this site, I suspect it was a souvenir from the Revolutionary war and some bored soldier used it for target practice. The cartridge and matching bullets are post Civil War and came from the same site as the plates. In the next pix I inserted one bullet in the casing to make a reconstructed round and used two others to show what the slug looks like. The next pic is my favorite carved bullet, a .58 carved into a fishing sinker.
Row 3 - This is my favorite reale, a counter stamped bit. It has the initials P.B. on one side and American Eagle and Nouvelle Orleans on the other. It dates to the Louisiana purchase and was issued by Planter's Bank which certified its value as 25 cents due to the shortage of American coins in the new territory. The bullet was a mystery to me until a long time relic hunter identified it as a Dish Based Sharps.I have never been able to find a listing for it.The beautifuk Eagle Artillery button was found with the X-5 at the site of a skirmish.The next pix is a grouping of flat buttons found at a local site. The Mississippi Cavalry button is from Port Hudson. I found it with the X-2. The 1837 half dime was plucked from a very trashy site with the X-5 and the 5 inch coil. It is included in the next grouping of relics found the same day.
Row 4 - My all time favorite button, a Louisiana Pelican, found with the X-2.The next two groupings of relics and the plate were all found with the X-5 and the 9 inch coil. The button is a Wisconsin Staff Officer's cuff found at Port Hudson with the X-2. The next shot is with the largest Artillery Shell I have ever found, a 145 pound Fused Naval Ball. I found it using the CZ-70. It is as big as a regulation basketball!
Row 5 - These are some artillery shells and balls I found over the past year. The first shot is me with a 3 pound ball, next comes a percussion fuse with the slider sticking out and the third shot is a rare 45 pound solid Read bolt with copper sabot. This shell was almost 4 feet deep.Next is the same shell and one tired digger! The next pix is of a 3 pound ball cleaned up next to a Union Naval fuse. The next three pictures show a fairly rare shell, a 4.3 inch Dahlgren. I found the blown sabot and then about 4 feet away the entire shell. These were solid bolts with a brass tip. The last shot shows it after preliminary electrolysis.
Row 6 - The first three shots are of a complete (sabot attached) 4.3 inch Dahlgren I dug. The third pix shows it after electrolysis.The next shot shows a couple of 3 pounders and some fragments. The next 3 pix are fuses, another shot of the percussion fuse and slider and a Naval Fuse right out of the ground.
| | | | | | | | |
| --- | --- | --- | --- | --- | --- | --- | --- |
| | | | | | | | More To Come |
Row 7 - The first pix is of a 24 pound C.S. solid ball about 3 + feet down in the hole right after I uncovered it. The next shot I am holding it with my legs dangling in the hole. The next pix is of a zinc parrott fuse adapter right after it was dug.

Row 8 - The "SNY" shots are of a State of New York militia plate dug at Port Hudson, it appears to have been struck by a plow or disc at some point.The face has a shave mark and the plate is bent and the rim mising. The other "SNY" relics were also dug the same day.

Row 9 - The DIV finds were dug recently at the Diggin' in Virginia Hunt, the plate is a U.S. box plate. The closeup is a shot of a Rhode Island coat button.


Row 10 - Well, if you haven't gotten a new double "D" yet you might want to give it serious consideration. I put it on the X-5 and took it to an iron and trash infested field today and its depth and ability to separate trash from good targets was simply amazing. This first pix shows the first 5 liberty bust and seated halves I dug in one hole right next to a nasty piece of iron. I heard the iron and then..I heard the silver! That wheatie was in there , too!

| | | |
| --- | --- | --- |
| | | |

First Two Images: I found these 3 additional Philadelphia Bust Liberty's in a muddy quagmire of iron,aluminum and other trash using the 5 inch coil and working through the trash very slowly. The first coin was right betwen a large iron bolt and a piece of iron plate. The larger Philadelphia Liberty is 1833 the other two 1838. The 5 inch coil was the right tool for this job!

Third Image: Here are the halves found so far at this site, 25 total. 12 Philadelphia Liberty Bust Halves and 13 New Orleans Mint Seated Liberty halves dating from 1809 thru 1850. The other items in the case came from the same site, a Connecticutt Cuff and two Voltigeur's Cuff buttons, a Shield nickle and a barber nickle.


Here is a 1752 One reale, a sterling Colonial but in a stylized scallop shape and a
Fortune Fork Token from Madison Parish, La.

Here is a clay pipe bowl I found lying on top of the ground after a bulldozer uncovered it at a work site. It is marked T.D. on the bowl. How it survived being rolled over by the dozer , I can't explain.
© 2021 Cayenne Metal Detectors
Website by Papertique / Graphiquedujour