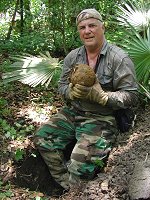 My name is Richard Angelico... welcome to Cayenne Metal Detectors - Purveyor of XP Deus wireless detector. The finest metal detectors & accessories available for Relic Hunting, Coin Shooting, Treasure Hunting or Gold Prospecting. Personalized service and support from a successful, experienced detectorist. Where Quality & Performance is Paramount!
Ph: 504-453-3359 richard.angelico@gmail.com
Visitors Welcome by Appointment

---
QUALITY USED METAL DETECTORS
Check in often as we get used inventory regularly
Or phone with what you are looking for
Ph: 504-453-3359
---
Incredible bargain on previously sold but never used original XP Deus. Version 5.2 software with the II inch X 35 coil.
Customer bought it but never had the time to use it so brought it back. Deterctor has never touched the ground!! $650.00 plus shipping
---
"Like new: The legendary Minelab Equinox 800 detector. This excellent detector has about a total of 6 hours on it.
A fellow purchased it and then decided he rather hunt deer and fish than metal detect.
Comes with earphones charging setup and complete directions for use.
SOLD
Click Images to Enlarge
---
Here is a new, original Deus with the 10 inch X-35 High Frequency coil and a dive kit. This detector was never taken out of the box.
I sold it to a friend who is a SCUBA diver but he is so busy he never got to use it. Last week, he came back to the shop to trade in on the new Deus II
which is waterproof to 65 feet and better suits his purpose. This detector is flawless and as new.
A super chance to get into one of the finest detectors made at a very affordable SOLD
---
Here is a good deal on the highly regarded CTX 3030. If you have been wanting a CTX 3030 but were put off by the $2499.99 price, you can pick this one up for a whole lot less.. The detector has two coils the 11 inch and the 6 inch. The six inch has never been used and the 11 inch barely used. The headphones are still in original wrapping as is the wireless system. The machine is pristine! I bought this to run trials against some other detectors and no longer need it. Price $1499.00 + shipping.
---
---
Garrett ATX Extreme Pulse Induction Deepseeker Detector with all three coils, ballistic material carrying case, hard case and 2 pair of earphones. The ATX is submersible to 10 feet and comes with a brand new pair of Gray Ghost Amphibian Underwater headphones as well as land phones. Used less than 20 hours and was purchased for a special project in which the machine performed spectacularly! The blue on the deep-seeker coil is just light reflection. A super-savings buy at $1599.99